365Telugu.com online news,november 2nd,2023:Serving humanity comes in many forms. The highest of these forms is Anna Seva – or service through the act of nourishing people with food.
On the 60th birthday of Mrs Nita Ambani – who has demonstrated the many roles of service across different spheres of her life – over 75,000 hot cooked meals were served to communities across the country.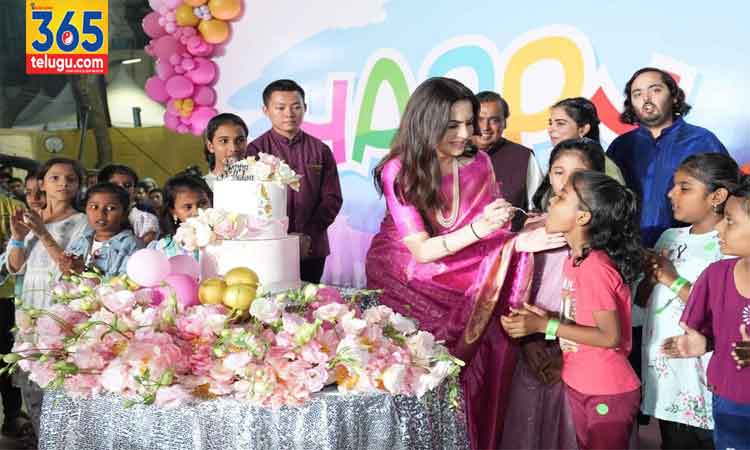 This was an extension of the service that Mrs Ambani has rendered for many years, especially as Founder and Chairperson of Reliance Foundation.
In addition to Anna Seva service carried out across the country ration kits were also distributed to benefit over 60,000 people. In Andhra Pradesh, about 600 people in both Kakinda and Vijayawada were given these kits.
All of these initiatives were taken up across 15 states of India for children, people in old age homes, daily wage earners, transgendered communities, those affected by health ailments like leprosy and children and people with special needs.
All of the efforts took place through the day from food distribution in the morning to meals being served at various locations were facilitated by Reliance volunteers who stepped in to personally serve the meals to children and the elderly.
In the evening, Mrs Nita Ambani, who has often articulated how children and women are closest to her heart, celebrated her birthday along with 3000 children at the Dhirubhai Ambani International School.
Mrs Ambani's contributions to the sphere of education, women empowerment, sports, arts and culture have made a significant difference to the social and development sphere in India.
Through Reliance Foundation under her visionary leadership over 71 million lives have been touched across the country. Taking this a step forward the Anna Seva marked a meaningful celebration of her birthday.
The events of the day evoked 'Maitreem Bhajata akhila hrit jaitreem' – verses that speak volumes about harmony, of friendship, of the self and of the world.