365Telugu.com online news,November 20th,2023:Graduation Ceremony of Digi Gyan Celebrating Innovation and Excellence Digi Gyan,a pioneering startup by the students of Pallavi Model School, Boduppal, specializing in digital education and innovation,commemorated its momentous graduation ceremony, marking the successful culmination of its latest cohort on the Children's Day.
The initiative covered 570 government Schools and 240 private schools respectively.The event was graced by the esteemed presence of Mr. Jayesh Ranjan, Principal Secretary of Information Technology (IT), Telangana, who presided as the Chief Guest.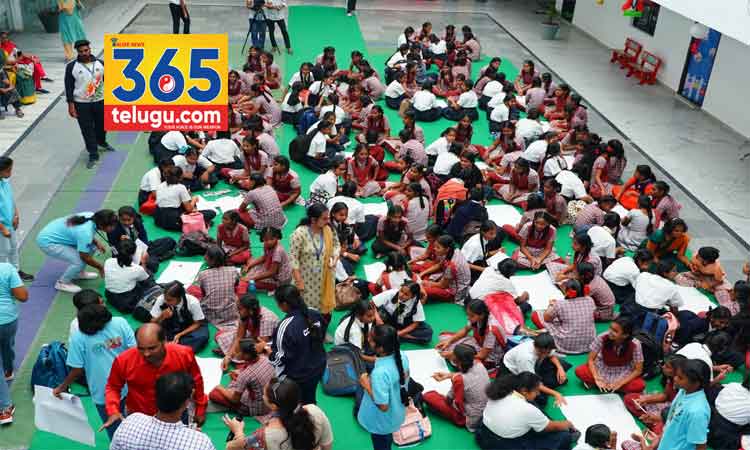 Joining him was Ms. Deepti Ravula, CEO of the WE HUB, Telangana recognized as the Guest of Honour for her significant contributions and support to the startup.
The graduation ceremony of Digi Gyan was a testament to the dedication, perseverance, and entrepreneurial spirit of the participants who completed an intensive program designed to nurture the students of Government Schools with its innovative ideas and foster technological advancements.
Under the guidance of seasoned mentors and industry experts, the cohort at Digi Gyan exhibited remarkable growth and showcased ingenious solutions that hold the potential to empower the students of the government schools.
The programme started with a welcome dance followed by the speeches of the students sharing their experiences with DIGIGYAN.
In his address, Mr. Jayesh Ranjan commended the efforts of Digi Gyan in cultivating an environment conducive to innovation, emphasizing the importance of such initiatives in driving the technological landscape of the schools forward.
He extended his support to the graduating cohort, encouraging them to continue pushing boundaries and contributing to the growth of the startup ecosystem.
Ms. Deepti Ravula, as the Guest of Honour, shared insights from her rich experience in the startup domain, inspiring the budding entrepreneurs to embrace challenges and pursue their dreams with unwavering determination.
The Chairman Mr Malka Komariah, Academic Director, Ms. T Sudha, the Director Mr Sushil Kumar, along with the Principal Ms Tanuja also graced the occasion.
The ceremony concluded on a high note with the graduates receiving certificates of completion, symbolizing their readiness to venture into the professional world armed with knowledge, skills, and a vision to make a meaningful impact.
Digi Gyan expresses heartfelt gratitude to Mr. Jayesh Ranjan and Ms. Deepti Ravula for gracing the occasion and providing invaluable guidance and motivation to the graduating cohort.
The startup looks forward to continuing its mission of nurturing talent and fostering innovation in the dynamic realm of technology.