365Telugu.com online news,Nacharam,october 21,2023:Delhi Public School Nacharam hosted the valedictory ceremony of the CBSE National Aerobics Championship 2023 with grandeur and fervor.
The event, held on October 20, 2023, at the DPS Nacharam campus, brought together nearly 800 talented young aerobics enthusiasts from 200 schools across the nation.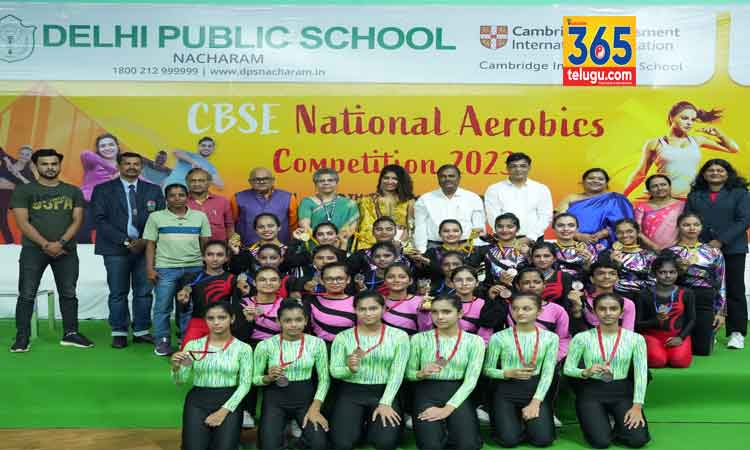 The ceremony commenced with a soulful prayer song that set the tone for the evening.Following the melodious invocation, the Senior Vice Principal of DPS Nacharam extended a warm welcome to the participants, guestsand attendees.
The event was graced by the presence of esteemed dignitaries, with well-known choreographer Ms. Nicy Joseph as the chief guest. Ms. Joseph, renowned for her work in the world of choreography,yoga and fitness shared her insights and experiences with the gathering, inspiring the young participants and attendees alike.
The ceremony received added prestige with the presence of Mr. M. Komariah, the Chairman of DPS and Pallavi group of schools, who delivered a motivating address to the students.
His words of wisdom and encouragement resonated throughout the hall, inspiring a sense of determination and sportsmanship. The students were motivated by COO Mr Yasasvi Malka to achieve laurels in academics and sports.
Sr Principal Ma'am Ms Sunita S Rao ,National Awardee encouraged the participants urging them to excel in all spheres of life.
CBSE Observer Mr. Santosh Deshmukh and Technical Delegate Mr. Santosh Khairnar graced the event with their presence, ensuring the smooth conduct of the championship.
Their expertise and guidance were invaluable to the participants and organizers alike.m Mr Santosh Deshmukh, the CBSE Observer, commended the host school for their efforts with a special mention to the PE department under the able guidance of Mr Manmohan.
He also emphasized the potential for expanding the reach of aerobics and fitness among the youth in the country.
As a token of appreciation, the host school, DPS Nacharam, felicitated the distinguished members of the jury for their relentless efforts and dedication towards evaluating the performances.
The pinnacle of excitement arrived with the much-anticipated announcement of the championship results. Winners received medals and trophies, acknowledging their hard work and outstanding aerobics skills.
The evening came to a close with the melodious rendition of the National Anthem, unifying everyone in a moment of patriotic pride and solidarity.
The CBSE National Aerobics Championship 2023 valedictory ceremony at DPS Nacharam was a celebration of talent, dedication, and sportsmanship.
It offered a platform for young aerobics enthusiasts to showcase their skills and gain inspiration from accomplished individuals in the field.
This event will undoubtedly serve as a cherished memory for all who participated and attended, promoting the spirit of fitness, teamworkand determination.