365Telugu.com online news,october 16th,2023:Pallavi International School Gandipet, had become the regal abode for a three day CBSE Clusters VII Kabaddi Tournament 23-24, from 14th Oct, 2023 to 16th Oct, 2023.
The event was declared open by Sri Yesasvi Malka, COO of Delhi Public School and Ms Hema Madabushi, Principal and Ms Meenu , Vice – Principal of Pallavi International School, Gandipet.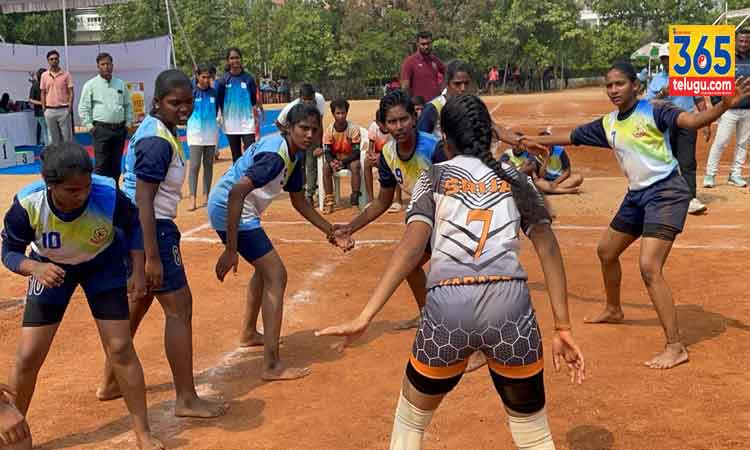 The closing ceremony was held on 16th, Oct 2023.
The event was attended by 56 schools in which around 987 students both boys and girls were the participants . They were divided into 84 teams of which boys were 54 teams and girls were 30 teams.
Matches were conducted between these teams and the winners of Semifinals were declared the winners of the tournament .
The Closing event was attended by Chief guest Dr S. R Prem Raj and Guest of honour was Dr M Venkateswara Reddy, Sports Education Advisor , DPS Nacharam who gave away the medal and certificates.
The Girl's Gold was won by Heal School, Thotapalli, Second Prize that is, the Silver was won by Heartfulness Wellness Centre,Ranga Reddy Dist and the third, the bronze was claimed by two joint winners from Matrusri DAV School, Miyapur and Harvest Public School, Khammam.
Boy's Gold was claimed by Sri Prakash Vidya Niketan Vizag, Heal School, Totapally won Silver and the Bronze was won by two joint winners, they were from Harvest Public School, Khammam and CRPF Public School, Secunderabad .
The chief Guest, Dr S.R. PremRaj was overwhelmed by the huge response and appreciated the participants and Pallavi International School, Gandipet for organizing such an event.
Dr M. Venkateswar Reddy congratulated the participants and appreciated the Pallavi International School for being wonderful hosts and said, students must make use of such grounds and infrastructure and develop as the best sports men and women and represent India. "
In her closing-note, Principal, Ms Hema Madabushi, congratulated all the participants and said representing the school itself is the biggest award. She thanked the Chief Guest Dr S.R.Prem Raj and Dr M Venkateswar Reddy and all the Kabbadi Coaches
Referees and congratulated Mr. Prasad and team, the Sports department of PIS, Gandipet for successfully culminating the Clusters VII Kabbadi at PIS, Gandipet and declared the event a closure.