365telugu.com,online news,National, 5th June, 2020: Shoppers Stop, India's premier fashion retailer has been strategically reinventing itself as a brand and its store formats to ensure a personalised and customised shopping experience for its customers. Shoppers Stop identified the Bridge to Luxury as a strategic foray for the brand and launched its flagship store, Tapasya on Golf Course Road, Gurugram last year. The four-storey, multi-brand, premium, high street store is sprawled over 50,000-sq.ft. and is aimed to 'Elevate Everyday Life' to offer a premium retail experience to customers. Dalziel & Pow, a leading London based creative agency was commissioned to create this experiential bridge-to-luxury, multi-brand fashion store. To redefine the shopping experience, the store has a Personal Shopper Lounge where trained Personal Shoppers help customers explore multiple product range with comfort and discover their personal style with expert team of stylists.
In August 2019, Shoppers Stop launched its store in Gaur City mall, Noida spread across 43,000 square feet of retail space. Schwitzke & Partner, the well-known German retail design firm created the interior architecture giving way to a clean minimal backdrop to complement brand presence giving the store a distinctive host environment. With beauty being one of the brand's prime pillars, Shoppers Stop launched Arcelia at GVK Mall, Hyderabad in June 2019. This is the brand's first stand-alone luxury store that houses premium brands in the beauty, fragrance, and accessories category. Taking it a notch higher, the store also offers premium services, complimentary makeovers, and skin consultations. The store is designed by the international design firm FITCH to create the new beauty destination for Shoppers Stop and redefines luxury beauty retail.Shoppers Stop has also recently launched and expanded its stores across Lucknow, Varanasi, Calicut capturing the local flavour and city essence to ensure a sense of belonging for their customers while they shop.
What to expect at the new Shoppers Stop stores:
Stores sprawling over from 19,000 sq. ft. to over 50,000 sq. ft. depending on the catchment area and demand
As the leaders in the beauty retail business, Shoppers Stop has brought together more than 200 brands including beauty brands like MAC, Clinique, KIKO Milano, Bvlgari, Armani among others. Expect great services, makeovers and masterclasses in a well equipped beauty hall with professionally trained experts to help you select, get ready and shop Stores with the latest in fashion with top brands like AND, Back To Earth, Call It Spring and Label by Ritu Kumar amongst others. One can get assistance from Personal Shoppers to find you just the right brand The stores also have OMNI channel capabilities: Click and Collect from the Shoppers Stop website and app and it will be reserved in store Scan and Shop in store to find the styles you like, Endless Aisles to access the inventory from the entire chain of 90 stores across the country
The stores blend a truly international feel and the local flavor perfectly to bring back the joy of shopping through inspiring displays, spacious trial rooms, and classy and modern interiors
Shoppers Stop also houses exclusive brands like Jones New York, Glam Lifestyle by Disha Patani
Whats more, you can also drop your old clothes for recycling and donate to the needy at Shoppers Stop stores. There is a drop box that is open to all donations which will be passed to families in rural India through the NGO Sustain Plus, all year around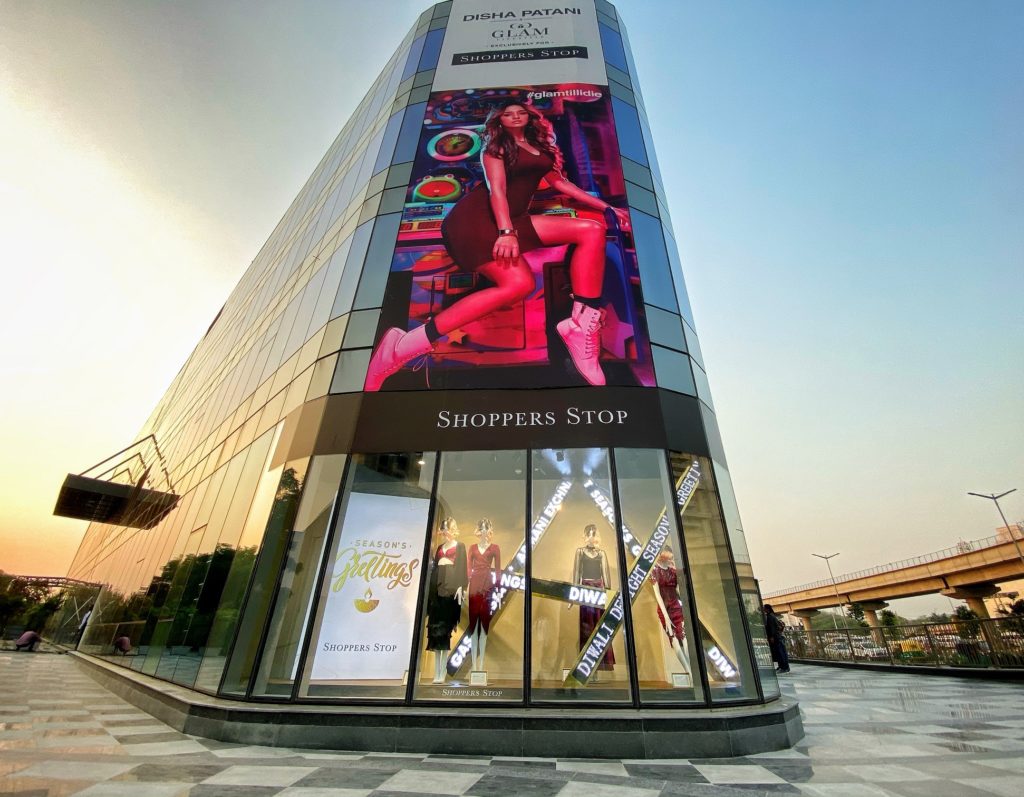 Shoppers Stop has been evolving the store design and format to make it more relevant to the times, and to the catchment and the brand has seen early success in curating the offering. This has helped penetrate neighbourhoods faster and more effectively, thus providing a delightful shopping experience every time. Owing to its consistency in redefining customer experience the brand was recently recognized and honoured by VMRD Retail Design Awards for its outstanding achievement in a glittering ceremony held virtually. Shoppers Stop was bestowed with 5 prestigious awards across multiple categories. The brand received awards for:
Department Store Design for their Tapasya store in Gurugram and their store in Gaur city mall in Noida
Best Instore Visual Merchandising for their store in Gaur city mall in Noida
Best VM installation for their Goonj displays and in Green initiative category for the same
VMRD awards is one of the most prestigious awards held for the retail design community. The 12th edition of these awards covered multiple categories such as innovation and excellence in retail design, visual merchandising, and manufacturing talent from India. The entries were judged by an esteemed jury panel both nationally and globally in the retail industry. They employ a specially designed digital platform that uses hi-res images and videos. The system facilitates a counting system that ensures transparency and consistency in the judging process.